Meet Author
Brenda Seabrooke
Saturday
Nov. 22, 2-4 p.m.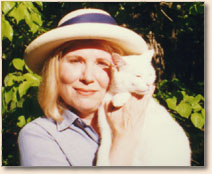 Brenda Seabrooke will sign her latest children's books Cemetery Street, and 'Twas the Day Before Christmas. We have most of her previous books in stock as well.
About Mrs. Seabrooke:
I lived on the edge of a small town and played in the nearby woods, fields, and streams. I had a lot of animals, dogs, rabbits, horses, fish. (My first story, written in pictures when I was four, was about my goldfish that came out of its bowl and had adventures.) Now I live on an island in Florida and I still have a lot of animals, three dogs and three cats who often appear in my stories: Kipling's Raj, the golden retriever in The Haunting of Holroyd Hill and my cat Spike who was the model for the dragon in The Dragon that Ate Summer and its sequel The Care and Feeding of Dragons. My other pets are impatiently awaiting their turns in my books. I write a lot about my childhood because we were always doing interesting things. We wanted to travel so we tried to dig to China, and we swung from trees like Tarzan. We made up our own games involving spies and horses, put on plays without written scripts and a lot of shows using our side porch for a stage. (We didn't have TV in those days - it had been invented but nobody had one.) I have written about my Fitzgerald childhood in Judy Scuppernong and Under the Pear Tree and my walks with my grandfather in Looking for Diamonds.