Welcome!
Newcomers to our shop often become confused with our layout. We joined two buildings that are architectural opposites and extended the depth to over 60 feet. So the unsuspecting person entering the door in the 24-foot front of the old house and browsing through the rooms can become fairly disoriented.

A browse through our web site before visiting our Front Royal site will be helpful.

We opened Royal Oak Bookshop in 1975 in the first two rooms of the old house and soon added room three to the retail space. We later added the one-level masonry building next door by joining the two buildings at the rear. The last expansion added 22 feet to the masonry sections, resulting in this u-shaped layout: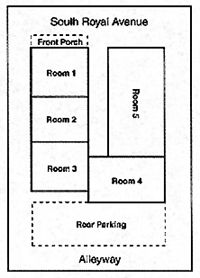 Our parking lot behind the shop can be reached via Stonewall or Prospect and the alleyway.