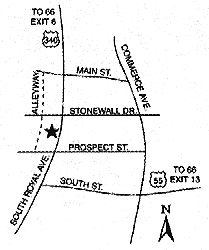 Locating the bookshop is easy because it is on Rt. 340 which runs north/south through town. Most routes into town will guide you toward Rt. 340. If approaching from the east, follow Rt. 55W to Rt. 340N.

Parking is available on the street and in the lot behind the shop. The parking lot can be reached via Stonewall Drive or Prospect Avenue and the alleyway.

We don't have a coffee shop on the premises but the best cup in town is just across the street at J's Gourmet. Their long list of luscious salads and sandwiches includes the Book Lover's Special! Eat there or take one of J's picnics to Shenandoah National Park. The entrance to the park is 1/4 mi. south on Rt. 340.
After J's Gourmet closes, the upstairs Apt. 2 G opens. Tom Sistsema gave favorable review in the Washington Post Magazine.