Room 1
Upon entering, it becomes immediately apparent that we emphasize books for children AND that we have devised ways to pack a lot of books into a given amount of space in an organized fashion!

---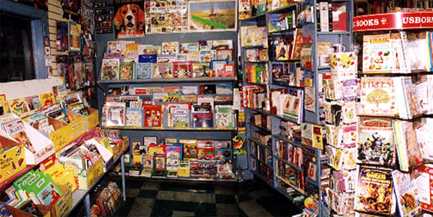 ---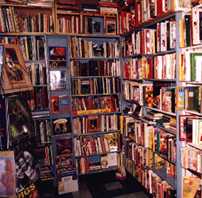 This knack is also evident across the room in the cookbook section, which covers 68 square feet of wall space. It is divided into 12 subcategories. We arrived at this particular subdivision of our cookbook section by listening to customer requests. For instance, the "diet/health" shelf holds cookbooks for weight loss AND for no-sugar, no-salt, low-fat cooking.

---
We opened as a new-book store in 1975 and added secondhand books in 1980. The ratio of new to used books gradually changed so that our present inventory is predominately secondhand. We have always had a liberal sprinkling of sale books (we call them "new books at used-book prices") throughout the shop in all categories. Basically, the new-book stock fills in any gaps left by the used and sale stock. Most of our new-book stock is in rooms one and two in four categories: juvenile, best-sellers, Virginiana and Civil War.